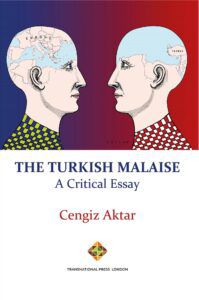 The Turkish Malaise – A Critical Essay
by Cengiz Aktar
Published: 9 September 2021 [Mediterranean Politics Series: 1]
Paperback: ISBN: 978-1-80135-076-1 Buy from Amazon | Buy from Lulu | Talebe.com'dan al
Digital version: ISBN: 978-1-80135-077-8 Read on Google Play | Read on Kindle | Read on CEEOL | Talebe.com'da oku
No one can predict today how Turkey will evolve; which spirit will mark the country's future. Who could have predicted the turn it has taken in recent years after having been a rising star in the early 2000s, a candidate for the European club, "the" model to follow, especially for Muslim countries seeking justice and prosperity? The failure of its candidacy, in which Europe has its share, has been the prelude to its progressive de-Westernisation accompanied by bellicosity on all fronts, at home and abroad.
Western countries are trying to manage this "Turkish crisis" between incomprehension and blind detachment, between appeasement and complicity, between containment and apprehension of seeing this large country decompose in its turn.
In this concise and well-documented essay, the author provides analytical tools to understand the split of a society, between state, nation, religion, imperial myth and the West. The analysis is complemented by interviews with the sociologist Nilüfer Göle and the historian Étienne Copeaux, both of whom have witnessed Turkey's never-ending transformation.
CONTENTS

Foreword

Between mitre and turban

A conqueror fascinated by what he conquered

Eastern cosmopolitanism versus Western "pensée unique"

Voluntary and self-imposed westernization

Invention of the nation by forceps

The unaccounted crime of genocide, the founding moment of a republic born impaired

The last step in the march west, the European Union

De-westernization and decomposition

A belligerent power both externally and domestically

Making sense of the Turkish regime

West's new Turkey conundrum

Epilogue

Interview with Étienne Copeaux

Interview with Nilüfer Göle
ABOUT THE AUTHOR:
Cengiz Aktar is a political scientist. He teaches the history of political ideas in the 19th century Ottoman Empire, regional and home affairs policies of the European Union, and works on the politics of memory. He is a visiting professor at the University of Athens. He has worked for the United Nations and with the European Union on migration and asylum policies. He has campaigned in Turkey to raise awareness on the Armenian genocide. He contributes to Financial Times, Le Monde and Libération. He is the advisor of the Hrant Dink Foundation and participated in the creation of La Revue du MAUSS.
CREDITS: Cover design by Selcuk Demirel, Paris, 2020.
Pour être informé des derniers articles, inscrivez vous :